Fire Damage Restoration in Idaho Falls, ID
Talk to a live person 24/7
At your door in 60 minutes or less
We bill directly to your insurance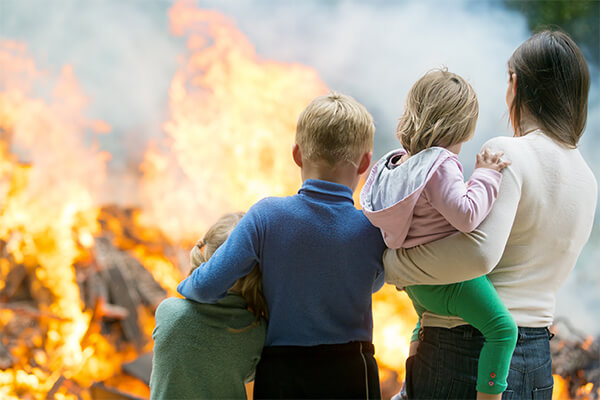 Fire Recovery & Restoration
Experiencing fire damage is one of the most devastating events a property owner will ever face. Fires can cause a vast array of extensive damage to a property due to water, smoke, soot, and the fire itself. Our experienced team of WFM Associate knows how to handle all these issues and more. Let us help you get your property back into peak condition. You'll rest easy knowing we will work tirelessly to get you back to normal as soon as possible.
IICRC-Certified Technicians
24/7 emergency response
We bill directly to insurance
Specialized in related damage from smoke, water, and soot
Frequently Asked Questions About Fire Damage
It's never a quick fix, though we've gathered together a multi-discipline team of contractors and technicians to work in tandem to complete the work as soon as possible. From structural repairs to sand/soda-blasting to odor removal to contents cleaning, our fire damage restoration crew begin as soon as the project scope is determined, and we don't stop until the job is done and both you and the insurance company are satisfied with the results.
Most often, yes. You'll need to check your specific policy for the full scope of coverage, but in general, if the damage was caused by a flame, it's covered. Your best bet is to hire a professional restoration to help you through the claims process. We know how to avoid some common missteps when it comes to making sure the entire loss is documented and covered. Many homeowners and insurance companies forget, for instance, to consider that your HVAC system will need to be cleaned of soot, and, since fires are extinguished using water, many areas of your home may need to be restored due to water damage even if they weren't directly affected by the fire.
Depending on the extent or location of the fire damage, some homeowners can move back in a few days or longer. The fire department will usually turn off electricity and gas to the property right away, and that won't be restored until a building inspector says that it's safe to turn those utilities back on. If you experienced significant smoke damage and the home's occupants include elderly persons, young children, or those with chronic health conditions, you may be wise to stay until the smoke cleanup is complete. Contracting with a company experienced in fire damage restoration can often get you back home sooner, because they'll have the resources to hire and manage the many tradespeople who will need to work together to make the home liveable again.
DIY soot removal is not recommended. Commercially available products can actually cause permanent damage to surfaces. Soot itself is primarily oil-based, but that residue also contains toxic, possibly biohazard contaminants.
Smoke damage is rarely limited to one area of the house, and it leaves behind residue that can hide in crevices and out-of-reach areas, and a simple "airing out" may not be sufficient. We recommend consulting with a smoke damage technician who can help you troubleshoot the next steps.
Our Location
Contact Information
Jones St

,

Idaho Falls

,

ID

83404

United States
*Disclaimer: WFM Associate is a resource for everything related to disaster and damage restoration, including water damage restoration, fire damage restoration and mold remediation. Any information you submit on this website will be used to help match your needs with an restoration company in your area. If you need immediate or emergency assistance, please contact a restoration company in your local vicinity. WFM Associate is in no way endorsed by any business listed and is not affiliated with businesses listed on its website. The information on this website is solely for the purpose of informing our potential customers about options available when choosing disaster and damage restoration services in your area. The information shown regarding each restoration company is as accurate as possible. Information and features are subject to change.